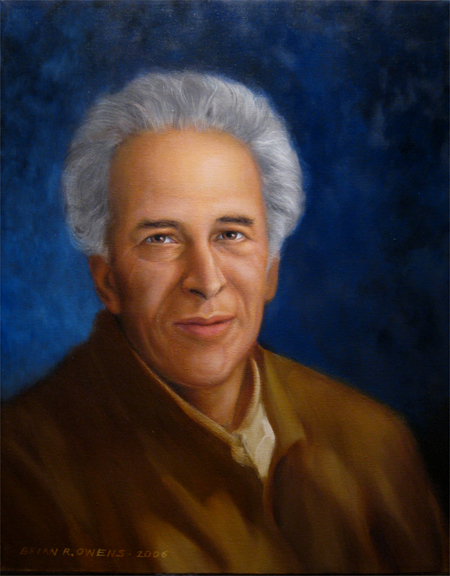 "KARSHAN" - A study in oil for a much larger, more complex composition that Brian Owens will complete in 2008.
oil on canvas, 16" x 20"
DONALD KARSHAN
by Brian Owens

Donald Karshan was a fine art collector who made his fortune in New York and retired to Florida before I became a professional artist. His many accomplishments will be noted on this page as it continues to develop. I knew Donald Karshan from a distance and so I remember him for his persona and his passions (which were many).

Donald Karshan was North America's foremost expert on the work of Alexander Archipenko (1887 - 1964), one of the most renowned sculptors of the 20th century. Archipenko was a Ukrainian Cubist sculptor and print maker who immigrated to the US in 1923 and built a successful career in New York. When I met Donald Karshan, he held the world's largest private collection of art by Archipenko and displayed his favorites in his home in Port Orange, Florida. The largest and most important collection is probably held by the Tel Aviv Museum in Israel. Donald Karshan was a complex, urbane, charismatic, intellectual man. He was also a secretive man, with "a past".

Someone famous said "everyone is a teacher". I remember being impressed with the idea that one man could, with considerable effort, become an expert on the life and work of another man. This lesson contributed to my own desire to understand and document, to the degree possible, the life of Alvin T. Marriott. Donald Karshan died in 2003 at the age of 73. I painted him as I believe he looked in his early fifties.