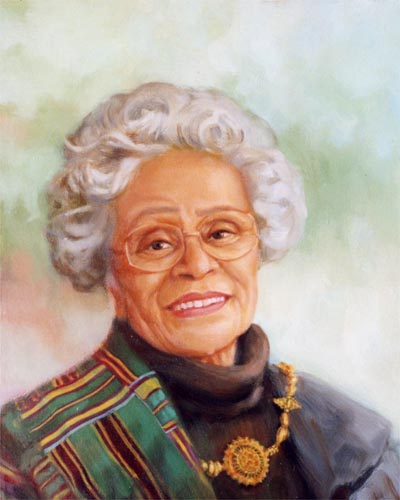 Catherine C. Blackwell, Educator
oil on canvas, 16" x 20"
Catherine C. Blackwell is an retired educator who is held in high esteem and regard, especially in Michigan. The Catherine C. Blackell Institute of International Studies, Commerce and Technology (in Detroit) is her namesake. Her awards and honors are too numerous to list here. In addition to her reputation as an educator she is known for the collection of African art that she personally assembled during her travels to Africa over a period of some 40 years. Catherine C. Blackell is not just a traveler, she's a sort of explorer. She has traveled so much and is so well known abroad that she is considered an informal ambassador to Africa. Catherine C. Blackell began her travels to Africa and her art collection in 1960. The Collection was only just beginning when she was made principal of Bagley Elementary School in the mid 60's where she used the art as an educational tool. The Collection is the tangible result of her own life journey to explore new ways to expand the minds of "her kids". It was her idea and she did it on her own dime. I was one of the impressionable little ne'er-do-wells in attendance at Bagley when Catherine C. Blackwell presided over it. Now the Catherine C. Blackwell Collection is maintained by museum professionals and is exhibited at Universities. After a space of 33 years I met Catherine C. Blackwell at her home to prepare for this portrait. We had big fun.


And now that life is quieting down "Ms. Blackwell", know this: New generations carry the torch. We think of you with great fondness and "We shall not cease from exploring". *





Notes:

Catherine C. Blackwell is wearing an item from the Collection: A Chief's ceremonial necklace, from the Akan Culture, Ghana, West Africa, made in the 20th Century.

* The quotation is from a poem by T. S. Eliot named: Four Quartets (Quartet No. 4, paragraph 5).

Special Thanks to Ron Elliott of Detroit, Michigan. The portrait was his idea.