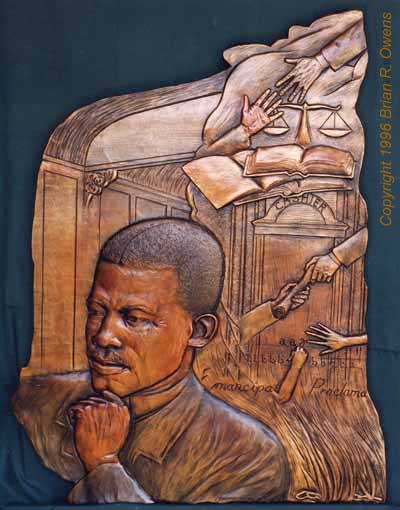 Wesley Chapel Redding, Entrepreneur
1857 - ?
Cast bronze relief sculpture, unique, height=27"
Commissioned by the Corporation for Olympic Development in Atlanta (CODA)
Master of Human Strategies

"Born a slave near Columbus, Georgia, Wesley Chapel Redding relocated to Atlanta with his mother in the 1860's and later attended Atlanta University. After working as a bellboy at the Peachtree Street boarding house, Redding was hired in the office of Judge George Hillyer, who encouraged and guided Redding in the study of law. At the time, Blacks were not allowed to practice law, so Redding found employment at the Merchant's Bank, where he served as the Black teller for Black patrons. In 1891, he joined other Black businessmen in establishing the Atlanta Loan and Trust Company, Auburn Avenues first black financial institution. In partnership with other investors eager to capitalize on the need for visitor accommodations during the Atlanta Cotton States International Exposition, Redding opened the European Hotel on Auburn Avenue in 1895 and served as its manager. Later Redding led the drive to create more work opportunities for Black women in the janitorial service industry.

In 1888, Redding moved from Marietta Street to a handsome two-story home on Auburn Avenue, becoming the first African American owner of the property. His Auburn Avenue home was located at the present site of the Martin Luther King, Jr., grave." *

The thing we see repeated in the life of Wesley Redding is this: He was able to recognize opportunities and was prepared to spring through windows of opportunity, however small they may have seemed at the time. He also was able to inspire the confidence of people who were in a position to help him. Perhaps a defining moment of Redding's life came when he was a child. Altruistic northerners selected his mother to be moved from the plantation, after emancipation, to Atlanta to assist in the formation of the "Open Door", an educational center. The Open Door set the stage for Wesley Redding's formal education. His education set the stage for all that followed.

Wesley Redding was a polished and refined man in behavior and apparel. I'm sure that the role that others had played in his development was not lost on him. I suspect that he knew he would never practice law but thought it possible that a child of his might. I believe that he was emotionally invested in the future, driven by his nature to analyze situations and make complicated human connections to reach the future. Wesley Redding was a thinker and a master of human strategies and improbable victories.
*Taken directly from the bronze plaque provided by CODA, 1996
Wesley Chapel Redding is one of four historic bronze relief sculptures by Brian R. Owens that are permanently installed at various points on Auburn Avenue in downtown Atlanta, not far from the Martin Luther King Center for Nonviolent Change.